Saint Andrews Church Family and Friends, these are our Announcements, Discipleship Opportunities, and ways to study, serve, grow, and celebrate!
More info:
Will remain on phone, and video conference until further notice.
Our Prayer Ministry invites you to join us every Wednesday @ 6:30 AM. CDT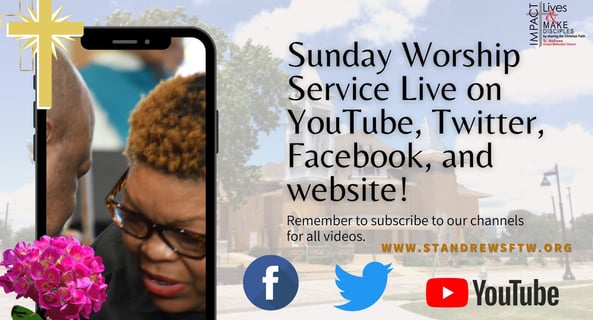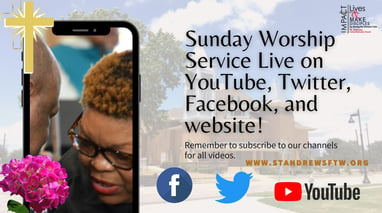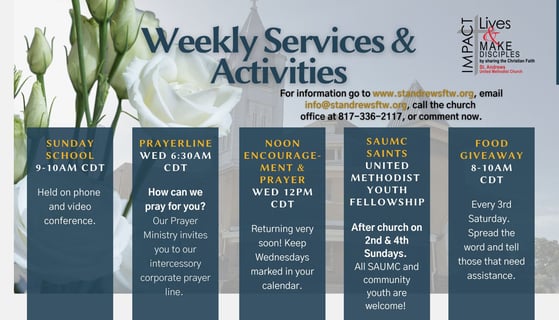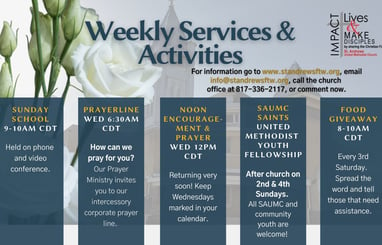 All details for weekly services and activities are located here on our website and on screen.

Everyone in our viewing audience is invited to all the studies, missions, worship services, and events we host throughout the week including our weekly prayer line, Wednesday Encouragement & Prayer (that will return soon), and SAUMC Saints United Methodist Youth Fellowship.
In addition to Facebook, Sunday Worship service is now also broadcasting live on:

YouTube, Twitter, and here on our homepage in an effort to make service accessible to those who are not on Facebook, not able to attend church in person yet, and the community.

Spread the word!